Earlier this summer, articles about "WoeBot" took social media by storm. Or at least in the mental health and technology circles I hang with. And in case you missed it the WoeBot is a automated chatbot that checks on you daily and offers some "sessions" in cognitive behavioral therapy. It was again brought up on Facebook and I sort of dismissed it. My gut reaction is there is no way that robot could replace a therapist and if it did. It would be rather clunky.
A robot doing therapy would probably look something like this. It would give a try but fall a bit short…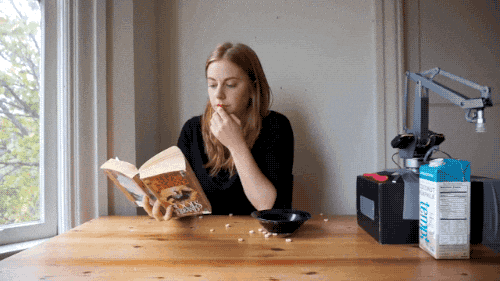 I thought about writing a blog post based on this GIF alone but wanted to do more research. Life happened and I moved on to other things.  But a recent conversation on twitter renewed this topic for me and helped me refine my message…
Other joined and shared some other thought provoking resources…
The above articles and resources provided some more "use cases" for chat bots in both healthcare and mental health.  This helped tip the scale for me.  I am certainly more open the possibility of chatbots for mental health. Still maintaining my stance that technology can be an adjunct to treatment but not a full on replacement.
I think the WoeBot can be good adjunct to therapy.  There could be two very useful scenarios.  One would be those who are placed on a wait-list. To start some WoeBot sessions to get a sense of what CBT is like and if it is a good fit. The data that is generated can be useful for the first actual session.  Similar to previous posts I have argued that data generated by using technology can create a "sitting around the campfire" talking about it scene. You can go into the session and talk about what you and WoeBot did.
The other useful scenario is as a bridge between therapy sessions. That again the conversation with the WoeBot can reinforce the face to face relationship with the therapist. Also thinking about how a WoeBot can be part of somebody's discharge plan. That after you are done with therapy then use the WoeBot to reinforce things. If one does not feel like the WoeBot is enough they can promptly return to therapy.
I continue to be enthused about mental health apps. However I remain cautious of these being stand alone treatments.  Yes there are not enough therapists and psychiatrists. Yes we need to do something different. And no mental health professionals don't have to run the other way from technology.  We should be embracing mental health apps as our assists.  In the case of WoeBot our virtual assistant.  It would be in the interest of therapists and maybe insurance companies to take a deeper dive into this technology to see how we can make therapy a more active than a passive experience.
I would love to know your thoughts on this topic. Please feel free to comment below, yell at me on twitter @StuckOnSW, or email me at StuckOnSW@yahoo.com